Muffles
Velcro-fastening Muffles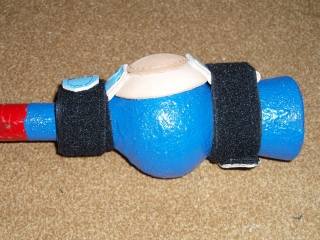 Unlike traditional muffles which are secured with buckles or leather thongs, Big Wilf's are velcro-fastening muffles which are much easier to fit and remove. The velcro is an industrial heavy duty, double-sided variety which is much stronger than the type used on clothes and shoes. There are two strands of Velcro which are wrapped tightly in opposite directions around the shaft and flight of the clapper. Leather tags make it easier to find the ends when removing the muffles.
The muffles have a right way up and a wrong way up to install them. The velcro straps are generally longer at the bottom where they wrap around the flight and we have introduced a label to aid with identifying this in the tower. The orientation of the muffles is now indicated by an obvious label with our logo inserted at the top of the muffle. Previously they had a small hole punched between the two rivets holding on the top velcro strap.
They use industrial nickel-plated rivets, inserted by our riveting machine to hold them together. The two parts of the muffle are stitched on our industrial Durkopp Adler sewing machine which will go through leather and other materials up to 16mm thick.
Please note that Big Wilf's Bell Muffles are intended for fitting to clappers in bells hung for English style full-circle ringing. They are unlikely to be suitable for bells hung dead and/or struck by external hammers, however if this is a requirement, please contact us as we may be able to help.
---
Clappers
If your clappers have either no flights, or mushroom heads, please contact us as we will see what we can offer.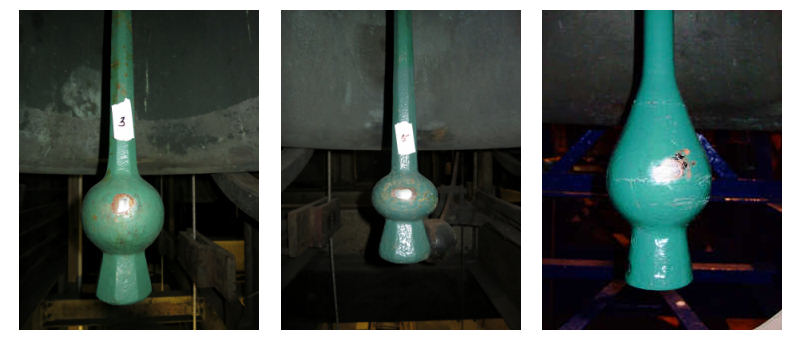 Velcro-fastening muffles are suitable for most clapper types, although if any of your clappers have very short flights due to limited frame clearance, an extra charge may be made for the extra time involved in setting out a different design to the current production model, this will be advised once we have receipt of numbered photos of your clappers.
Please give full details of your clappers when ordering.
Our standard velcro-fastening muffles are not suitable for "mushroom-headed" clappers, although we may be able to supply an alternative design - please ask.
Muffles for "pear-shaped" clappers will be costed on application.
Muffles can also be made to fit wooden clapper shafts.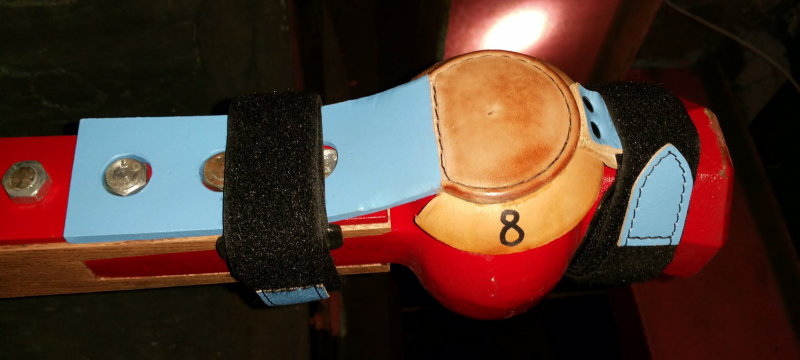 One of our timber shafted clapper muffles
---
Double, or Fully Muffling
In addition to a single, or half muffle, we also offer additional muffles for fully muffling. This is achieved by using a normal velcro muffle (blue) together with a secondary muffle (yellow) which is held in place by the velcro straps of the main muffle.
We have a full archive of all muffles made in the last 15 years so can match new secondary muffles to any sets Big Wilf has previously made.

---
Fitting Instructions
Video instructions for fitting and removing Big Wilf's muffles are now available on YouTube: